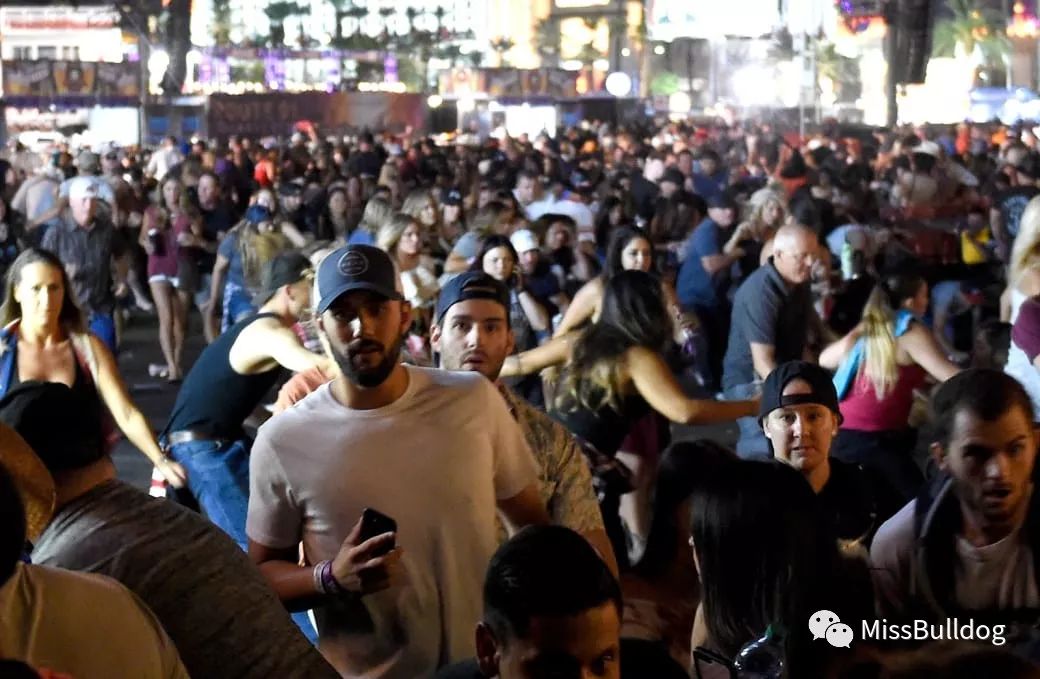 What We Know So Far
At least 50 people were killed and more than 400 were injured in a shooting incident on the Las Vegas Strip late Sunday night.

It appears to be the deadliest mass shooting in recent US history.

The shooter opened fire from the 32nd floor of the Mandalay Bay hotel on the strip, and fired on a large, 22,000-person outdoor concert taking place nearby.

Police identified the shooter as Stephen Paddock, 64, from Mesquite. They said he was found dead in his room, where he has been staying since Sept. 28, after likely taking his own life.

The motive for the shooting is unclear.
Orlando Police send touching message of support to Las Vegas colleagues
Orlando Police Department Chief John Mina has issued a statement on the Las Vegas shooting, saying the Orlando community stands with Vegas.
Orlando was the site of a similar mass shooting in 2016 when 49 people were killed at a nightclub.
"We are all thinking of those affected by the horrific mass shooting in Las Vegas. This community, and the men and women of OPD, know all too well the anguish that is gripping residents, visitors, and law enforcement communities in Las Vegas," Mina said.
"We grieve with the people of Las Vegas, and stand firmly with our brothers and sisters in law enforcement who are dealing with this tragedy. Our condolences and prayers go out to all those affected, and we grieve with LVMPD, who lost an off-duty officer who was attending the concert and was shot and killed."
–Alicia Melville-Smith
Shooter is "believed to have killed himself," officials say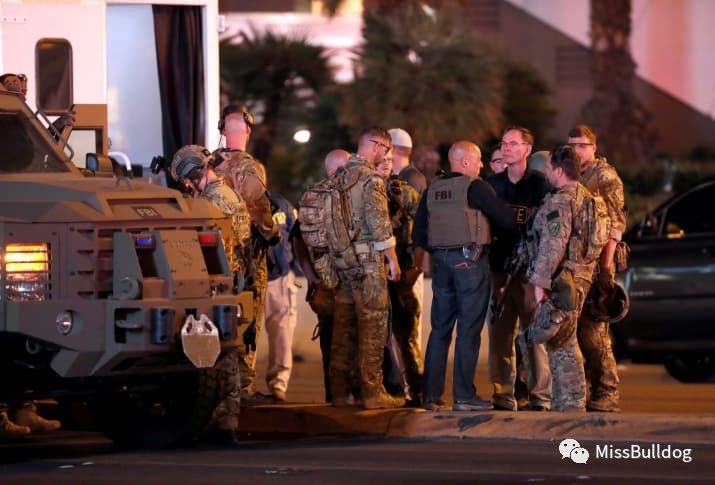 Las Vegas Sheriff Joseph Lombardo said Monday morning that the suspected shooter, identified as Stephen Craig Paddock, 64, is believed to have killed himself prior to law enforcement entering the hotel room from which he allegedly opened fire.
Authorities said Paddock had occupied the room, on the 32nd floor, since September 28, and that officials were still actively going through the results of the room search, which found in "excess of 10 rifles."
"We have no investigative information or background associated with this individual that is derogatory," the sheriff said, beyond "a citation several years ago and that was handled as a matter of normal practice in the court system."
Police also said that Marilou Danley, believed to be a companion to the suspect, is no longer a person of interest. Officials located her out of the country, had a conversation with her, and "believe her not to be involved," the sheriff said.
Police were also serving a search warrant at Paddocks place of residence in Mesquite, Nevada, Monday morning, to clear the home for any possible explosives, according to authorities.
—Cora Lewis
Department of Homeland Security says there are no credible threats to other venues following Las Vegas shooting
In a statement, the agency said acting Homeland Security secretary Elaine Duke had been briefed on the shooting.
"The department is closely monitoring the situation and working with our federal, state, and local partners in responding to and investigating this tragedy.
"At this time, we have no information to indicate a specific credible threat involving other public venues in the country. However, increased security in and around public places and events may be experienced as officials take additional precautions.
"Our thoughts and prayers are with all those affected by this incident as we work to support the Las Vegas community."
—Alicia Melville-Smith
Number of people injured in shooting rises again to more than 400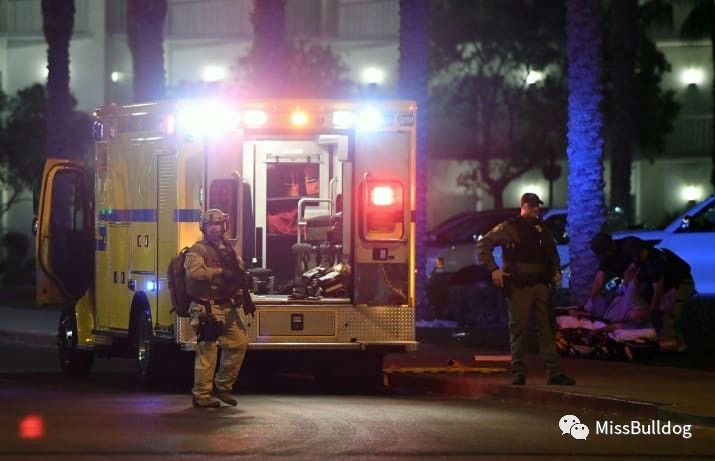 In their latest statement, Las Vegas police have said an estimated 406 people were transported to hospitals following the shooting.
Among the 50 so far confirmed to have been killed is a Las Vegas police officer who was off duty at the music festival. His name has not yet been released. Two other on-duty police officers suffered injuries; one is in a stable condition and the other sustained non-life-threatening wounds.
Police and the Clark County Coroner's Office have set up a hotline for family or friends to report missing people. The number is (866) 535-5654. A family reunification center has also opened at 400 S. Martin L. King Blvd. in Building B.
—Alicia Melville-Smith
President Donald Trump has been briefed on the Las Vegas shooting
White House press secretary Sarah Huckabee Sanders has confirmed that Donald Trump was briefed this morning on the shooting in Las Vegas.
"The president has been briefed on the horrific tragedy in Las Vegas. We are monitoring the situation closely and offer our full support to state and local officials. All of those affected are in our thoughts and prayers," Sanders said.
Shortly after he was briefed the president tweeted about Las Vegas.

More than 50 people dead and more than 200 others injured in the Las Vegas concert shooting, sheriff says
Police have confirmed that more than 50 people have died and more than 200 others were injured in the Las Vegas shooting.
Sheriff Joseph Lombardo said that the exact number of people injured is not known at this time.
The sheriff also confirmed that the shooter has been identified as 64-year-old Stephen Paddock.
"As far as his history and background, we havent completed that part of the investigation yet. We located numerous firearms within the room that he occupied," Lombardo said.
In addition to the shooter, police were looking to talk to Marilou Danley, who was described as a "person of interest." Police said they believe they have located her at this point.
"Obviously this is a tragic incident, and one that we have never experienced in this valley," Lombardo said.
–Jessica Simeone
Here are all the hoaxes being spread about the Las Vegas shooting
BuzzFeed News Ryan Broderick has rounded up all of the false information spreading on social media about the shooting in Las Vegas.
Check it out here.
–Ryan Broderick
Casino owner says "Were grateful for the immediate actions of our first responders"
In a statement issued via Twitter, MGM Resorts, owner of the Mandalay Bay casino and hotel, said, "Our thoughts and prayers are with the victims of last nights tragic events."
"Were grateful for the immediate actions of our first responders."
The Mandalay Bay, and other hotels on the Las Vegas Strip, remain on lockdown following the shooting.
—Alicia Melville-Smith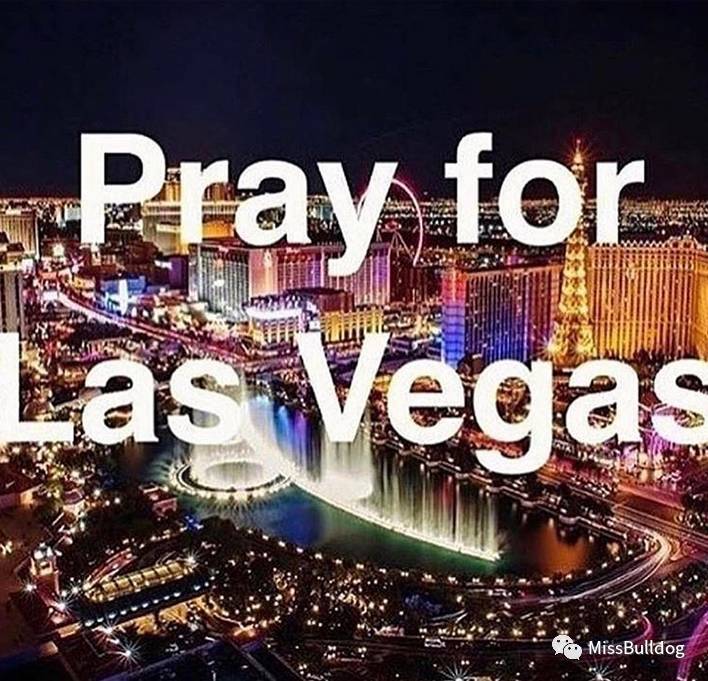 Country music singer Jason Aldean, who was performing when the shooting started, has posted a heartfelt message on his Instagram page.
"Tonight has been beyond horrific. I still dont know what to say but wanted to let everyone know that me and my crew are safe," he said.
"My thoughts and prayers go out to everyone involved tonight. It hurts my heart that this would happen to anyone who was just coming out to enjoy what should have been a fun night."
—Alicia Melville-Smith
Off-duty police officer among those injured in shooting
Bakersfield Police Department has confirmed that several of its officers were attending the Route 91 Harvest music festival off-duty when the shooting began.
In a statement, the department said: "Some of our officers witnessed gunfire but were not in a position to return fire.
"One Bakersfield Police Department officer was struck by a bullet from the active shooter and is being treated at a Las Vegas area hospital for non-life-threatening injuries."
The officers identities have not been released.
—Alicia Melville-Smith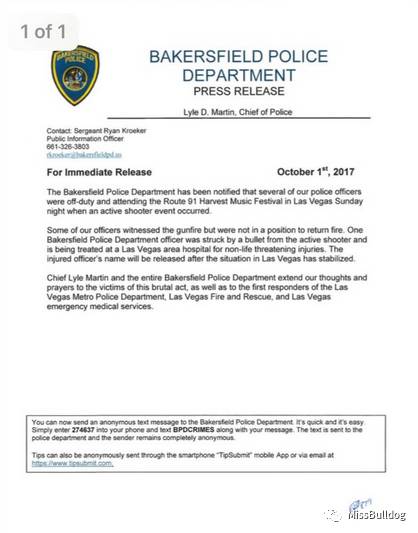 Two people have died and at least 24 are injured following a shooting in Las Vegas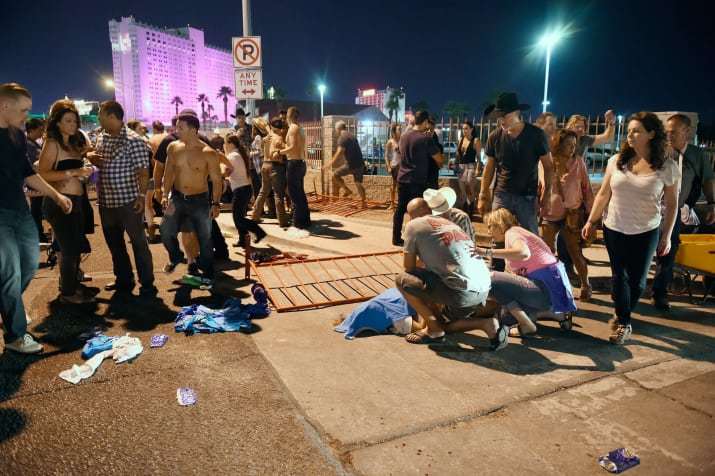 Police descended on the Las Vegas Strip Sunday night, responding to reports of an active shooter at a music festival near the Mandalay Bay hotel.
Danita Cohen, a spokesperson for the University Medical Center of Southern Nevada, said the hospital had received 26 patients so far as a result of the incident. Two of those patients had died, Cohen said, and 12 are in critical condition.
One suspect in the shooting is down, Las Vegas Metropolitan Police Department tweeted Sunday night, asking people to stay away from the area. Authorities also shut down part of the Strip and a nearby highway, and McCarran International Airport said it had temporarily halted flights as a result of the incident.
Additional details about the incident were not immediately available, but in multiple videos from the scene, a series of loud pops could be heard.
—Jim Dalrymple and Ruby Cramer